Delayed marriages, an aging population, and international immigration are creating a pressing need for 4,600,000 new apartment units in the U.S. by 2030, according to a new study commissioned by the National Multifamily Housing Council and the National Apartment Association. Currently, nearly 39 million people live in apartments, and the apartment industry is quickly exceeding capacity.  It will take building an average of at least 325,000 new apartment homes every year to meet demand; yet, on average, just 244,000 apartments were delivered from 2012 through 2016.  The increased demand for apartments can be largely attributed to:
Delayed house purchases. Life events such as marriage and children are the biggest drivers of home ownership. In 1960, 44% of all households in the U.S. were married couples with children. Today, it's 19%, and this trend is expected to continue.
The aging population. People over 65 will account for a large part of population growth going forward across all states. Research shows older renters are helping to drive future apartment demand, particularly in the northeast, where renters over 55 will account for more than 30% of rental households.
Immigration. International immigration is assumed to account for approximately 51% of all new population growth in the U.S., with higher growth expected in the nation's border states. Research has shown that immigrants have a higher propensity to rent, and typically rent for longer periods.
"We're experiencing fundamental shifts in our housing dynamics, as more people are moving away from buying houses and choosing apartments instead. More than 75 million people between 18 and 34 years old are entering the housing market, primarily as renters," said Dr. Norm Miller, Principal at Hoyt Advisory Services and Professor of Real Estate at the University of San Diego. "But renting is not just for the younger generations anymore. Increasingly, Baby Boomers and other empty nesters are trading single-family houses for the convenience of rental apartments. In fact, more than half of the net increase in renter households over the past decade came from the 45-plus demographic."
The propensity to rent is higher in high-growth and high-cost states, such as California, Georgia, Arizona, Florida, North Carolina, Nevada, New York, Texas, Virginia, and Washington.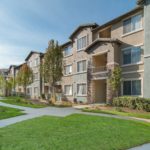 Read more