Regal Properties, and its affiliate, Capital Real Estate Solutions LLC ("CRES"), desire to align with one or more capital partners for the purpose of acquiring completed, partially completed, and in-fill, entitled, detached, single-family home subdivisions.
Our team has a unique ability to find and acquire attractive land opportunities. After acquiring from a local bank a small completed subdivision in Kerman (suburb of Fresno), we began exploring the Central Valley market more thoroughly. We strongly believe the residential market is currently experiencing a solid recovery, and there will be an acceleration of home building in Fresno and the surrounding areas. All of the publicly-held home building companies have already began, or will soon begin, construction in these targeted communities.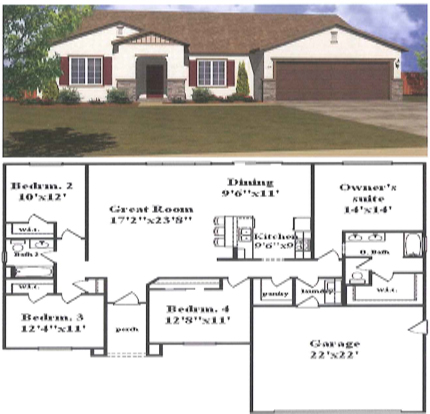 Our goal is to acquire as many of these projects as possible which fit our specific criteria — projects in a meaningful location, in markets that are already or soon will be emerging, which we can hold for maximum investment returns driven by future market conditions. Our extremely thorough due diligence process ensures all aspects of any given property are fully understood prior to acquisition. The exit strategy will be to sell the homes to consumers or create pools of rental properties which are sold to equity investors. Profit maximization will be the key decision-making criterion.
We have solid banking relationships in this region and have already done multiple transactions with one of these lenders.  Local banks have demonstrated they will provide us with exceptional financing terms, not available to other local builders and developers, on a deal-by-deal basis.
We have already identified several opportunities which we are prepared to acquire when adequately capitalized, and we are currently in the process of moving 3 transactions from agreed Letters of Intent to executed Purchase Agreements.  These off-market opportunities, recently presented to us as a bulk deal by a publicly held home builder, became available due to an unusual internal circumstance. Because of a solid working relationship, and our reputation with this builder, they approached us and we struck a deal.
We have also been offered, with very attractive returns, the opportunity to furnish equity for existing projects which have a need for capital, in the Bakersfield and Fresno areas.  We are currently analyzing these opportunities.
Regal Properties and CRES have assembled residential development opportunities in these Central Valley cities:
Fresno, California
Fresno is the county seat of Fresno County, and one of the fastest growing areas in California.  The Central Valley of California is known as "the breadbasket of America" due to the prodigious output of agricultural products.  Even though California has experienced a significant draught in recent years, the prices for agricultural products have skyrocketed and the local farming community has flourished.  Additionally, the advancement in technology for oil extraction has rekindled the dormant oil industry and created a mini "oil boom" in the Central Valley.
The 2013 census reports Fresno's population as 509,000, making it the 5th largest city in the state and the 34th largest in the nation.  It is, by far, the largest inland city in the state, and the Fresno Metropolitan population is now 1,107,000.
Fresno proper is home to 5 four-year universities and 2 community colleges and has one of the largest Enterprise Zones in California.
Even though the Central Valley suffered greatly with the economic downturn beginning in 2006, it is currently rebounding at the fastest rate of any area in the state.  Housing prices have increased at an average annual rate of 20% over the last two years.  Every major national home builder is represented in the Valley.
Kerman, California
The City of Kerman California is a bucolic farming community located 15 miles west of downtown Fresno.  The town boasts a beautiful historic main street dating back to the mid-1800's when the city was a major rail stop.  With a population of only 14,300, Kerman had population growth of 5.6% from April 2010 through April 2012, almost triple the State of California's growth of 2.0%. Walmart has just opened a Super Store that compliments a full range of services currently offered in the city, along with other major retailers such as CVS and Rite Aid. Currently, there is no residential construction taking place in Kerman, and very little existing home inventory on the market.
Madera, California
Madera, population 62,000, offers an affordable alternative to the cities of Fresno and Clovis.  Located only 23 miles north of Fresno on Highway 99, residents will benefit from ease of access to Fresno's major employment, airport, hospitals, dining and family entertainment.
Tulare, California
Tulare, population 61,000, is located approximately 30 miles south of Fresno, and is favored by many as a bedroom community.
Sanger, California
Sanger, population 25,000, is located just a few miles east of Fresno.
Los Banos, California
Los Banos, population 36,000, is located northeast of Fresno at the upper end of the Central Valley, within reasonable commuting distance of Silicon Valley.
Bakersfield, California
Bakersfield is located on the southern end of the Central Valley and is the second largest city in the valley after Fresno.  Bakersfield is a fast growing city with a population of 360,000, and is headquarters to the oil boom currently occurring.